Acoustical Eye Lag Screws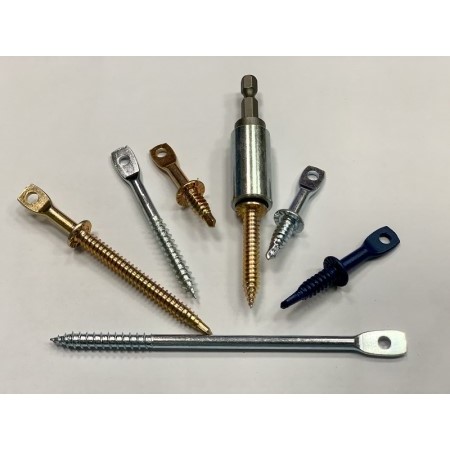 Size : M6.0 or #14
Length : 3/4", 1-1/2", 2"
Material : Carbon Steel . Stainless Steel
Add to inquiry
Product Description
Acoustical Eye Lag Screws
Size : M6.0 or #14
Length : 3/4", 1-1/2", 2"
Material : Carbon Steel . Stainless Steel
Point Type : No.1~No.3 drill point , Sharp point, Type 17 point
Surface Treatment : Zinc plated, Yellow Zinc plated, Black zinc, Zinc Nickel, Mechnical Galvanized, Ruspert
Slat Spray Test according to customer requirement.
Package : Bulk packing, Box packing, Bag packing, Blister
Screw Characteristic : This product is used in building construction, and it is most used in ceiling construction. There are two type of point, one is sharp point that run throungh wood sheet, another is drill point it runs through steel sheet. This screw can drill into wood straight edge, another side of screw has flat eye can hang light gauge steel by hanger wire inserted through the eye. Finally, the ceiling sheet will put on the light gauge steel.The hand tooling is consisted of lag driver or lag pole that install in this screw for drilling and fixing.
Celebrite Fasteners Co., Ltd.
Acoustical Eye Lag Screws which used in ceiling construction can meet quality requirements of customers. With drill point and sharp point are available by object fixing. Professional design of Acoustical Eye Lag Screws have different style, size, material, high quality and best price. Welcome to get more information, please feel free to contact us.